Drummers are a wild bunch. And for the safety of everyone in the church, we put them in a cage.
Okay, so maybe this isn't the real reason. But a majority of churches who use acoustic drums put them behind a cage (aka shield) to dampen the sound.
Is there a better way to lower drum noise?
My church was renting a facility that changed ownership and the new owners told us it was time to move out. Our only choice was to go mobile and meet in a hotel conference room until we found a new space.
Up until this point, our drummer was behind a 6-foot plexiglass shield with sound absorption panels behind the drums.
When preparing to go mobile, my goal was to simplify and make setup as easy as possible. The last thing I wanted to do was haul a huge plexiglass fort in and out every week.
So, we ditched the drum cage.
But, we were in a small room and had to do something to lower the sound of the drums. I headed off on a Google expedition and began the trial-and-error process of finding a new solution.
Step 1: Use different drum sticks.
The best sticks if you need things super-quiet.
I came across Lidwish Solutions Classic Ultra-Tones Sticks, thought they were weird, but decided to give them a shot.
When handing them to my drummer, she wasn't impressed. But I talked her into using them anyways. Here's what happened:
They cut the acoustical volume more than half
They bounce almost as good as regular drum sticks
The drums sound just as good mic'd as they do with regular drum sticks (after adjusting the gain, of course)
But, there were several things we didn't like about them.
First, it's tough to get used to how light they are. Secondly, cymbal hits don't sound very good. On top of this, they come from Hawaii and it takes several weeks to get them. And they are quite easy to break, so you better order 2-3 at a time.
Even so, if you need super-quiet drums, these sticks might just be the best solution for you.
The best-of-both-worlds sticks.
On my Google adventure, I also stumbled upon drum sticks that use multiple wooden dowels grouped together. My drummer was a bit more open to these and here's what we found.
They don't quite cut the volume in half, but there is still a significant drop
They bounce almost as good as regular drum sticks
The drums still sound good mic'd
They feel pretty close to regular drum sticks
Really, the only downside is that they don't last near as long as a regular drum stick. Considering the wooden dowels are fairly small, it is easy to beat them up. Just plan on replacing them every 1-2 months.
Our favorite is the Vic Firth Steve Smith Tala Wand (Sweetwater).
Another good option is the Promark Hot Rods (Sweetwater).
Step 2: Dampen cymbals with a bit of gaffer tape.
While mobile, our drummer behaved well uncaged. So when moving to our new facility, we decided to keep it that way.
We are still using the Tala Wand, but because every room is different, we ran into an issue with the cymbals being too loud. Now, moving is expensive, so there was no budget to try new cymbals.
Instead, we purchased several types of tape and let the testing begin. Under the cymbals we tried balls of tape, long lines of tape, different kinds of tape.
The best sounding dampening came from using a one-inch piece of gaffer tape under the cymbal near the bell.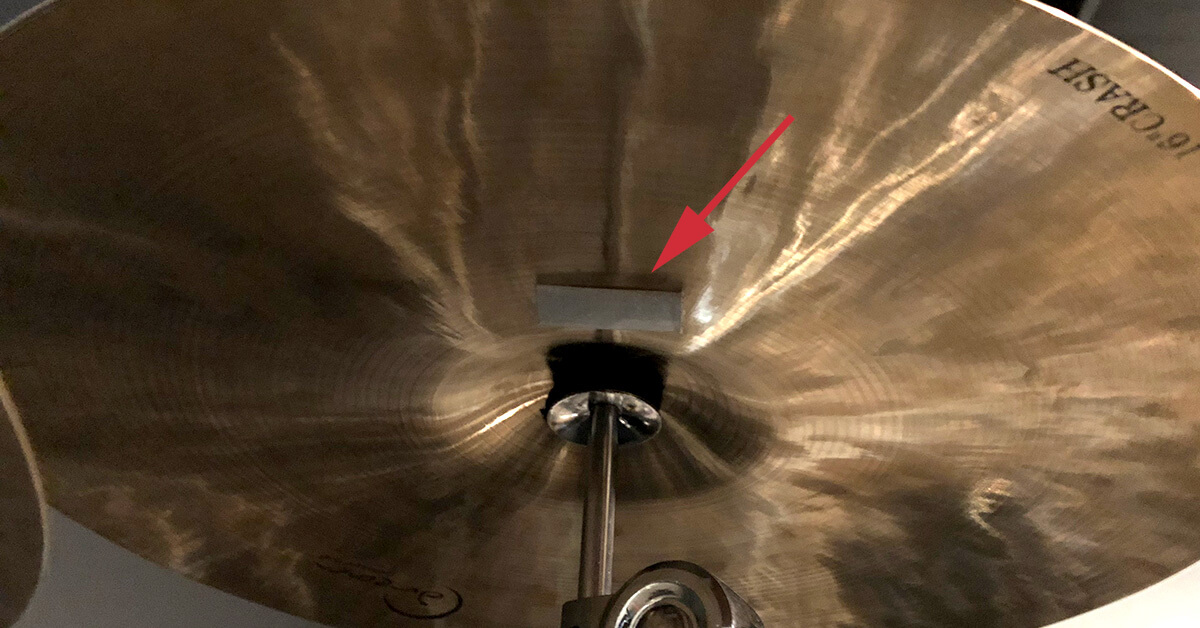 Step 3: Use sound absorption panels when possible.
The last step is to put sound absorption panels near the drums where it makes sense.
We have sound absorption panels behind the drums that blend in with the black wall. We also plan to hang them on the ceiling over the drums.
This helps capture any excess drum energy before it leaves the stage.
You might also be interested in: DIY Sound Absorbing Panels for Churches
Step 4: Communicate with your drummer.
Even with all this in place, you need to communicate with your drummer if things get too loud.
If you have ever been behind a drum set, you know how easy it is to get excited and start over-playing. Most times, you don't even realize you are doing it.
That's why communication needs to be open between the sound tech and the drummer. No hard feelings, just open, honest and specific communication.
For example, "Hey drummer, love the energy! Just need you to be a bit lighter on the crash cymbals."
Things to Consider
If you are not using in-ear monitoring, uncaging the drums may not work.
For example, although the solutions above dampen the sound significantly, the drums still may be too loud for a nearby vocalist who is using a floor wedge for monitoring.
In this case, you can always upgrade to in-ears, and here's how to do it on a budget.
Don't forget to adjust your drum mix.
When using different sticks, your drum mix will change significantly. You'll need to readjust the gain and maybe even change up EQ and other audio processing.
Here are my best tips for creating a great drum mix